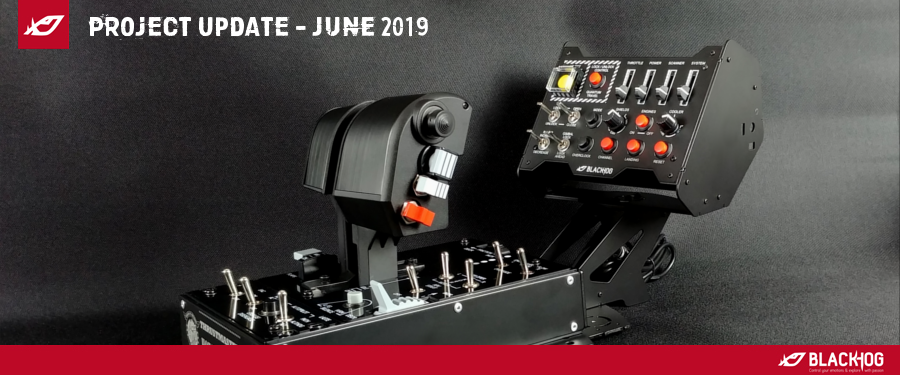 Project Update – June 2019
Hello guys,
time for a new update!
We want to thank you all for the support and suggestions, we love your feedback!
Production
Many of you have already a "Processing" message in your inbox. With production and assembly now stabilizing, we are in position to schedule more accurately the next deliveries, and finally with big shippings in two weeks.
We were forced to restart production 3 times until everything was up to the quality standard we were looking for. Design improvement, the cutting on some pieces, and paint quality, were the main things we had to adjust to achieve that.
After discarding many pieces for this reasons, we had left a reduced amount of parts to start production. That selection process was time consuming and is why we have been working on small batches and contacting costumers individually as each order entered production.
Finally, we are satisfied with the quality of the materials and design for the final version. It took some extra time, but we are sure that you will love it.
Thank you again for your patience and support on this journey! The next milestone is just ahead, and we can't wait to get there!
We keep working and the machinery never stops
Dimensional drawings
We have received several requests from some of you asking for the dimensional drawings of the base plate.
We know many of you are planing on how to best setup your Sim-rig with the b-explorer, or some of you want to have the information before purchasing. So by popular demand, here they are!
b-explorer new review
For our Spanish-speaking friends out there (we know you are many!) here is a new b-explorer review, courtesy of Motoko from Punto de Salto; a very active Star Citizen channel with videos, podcast and tutorials. He will give you a first glimpse on what to expect from the b-explorer.
iRacing sponsorship
We have been cooking a few things that we think is time to share with you guys.
First of all, we would like to proudly announce our very first iRacing sponsorship: TEMPO Motorsport!
A great young Australian Team that is bringing BlackHog's colors to the iRacing tracks.
As the team just debuted on the development series and OSR classification rounds, we can't wait to see the brand new BlackHog Holden Commodore V8 Supercar soon in the iRacing Official series, you can follow them this monday 17th @simspeedesports https://www.simspeed.tv/
We wish them the best luck in the races to come!
E3 2019: Microsoft Flight Simulator and Flight Sim Expo
This has been some exiting days for all gamers out there, and with some unexpected goodies for the Flight-sim fans!!
While we were looking over the Flight Sim Expo with expectation, a shadow-drop came from the E3 Microsoft press conference, and caught us off-guard.
Microsoft Flight Simulator was announced with a stunning trailer and a 2020 release date!
The website reads:
"Microsoft Flight Simulator is the next generation of one of the most beloved simulation franchises. From light planes to wide-body jets, fly highly detailed and stunning aircraft in an incredibly realistic world. Create your flight plan and fly anywhere on the planet. Enjoy flying day or night and face realistic, challenging weather conditions"
In the trailer you can see some amazingly detailed terrain, buildings, traffic, animals…
We will have to wait to see the level of aircraft simulation realism Microsoft will bring to the table.
AI technology and satellite data will be be the mix to provide hyper-realistic graphics. Looks like soon, will be time to upgrade our gaming rigs, if we want to experience it in all the gorgeous glory.
It´s still unclear what Azure part will be in all this, maybe the real time weather system or the glue to put together the "2 petabytes of geographical data".
Lets wait and see!
To put the cherry on the top, we had the final reveal of the long awaited Thrustmaster F/A-18C Hornet HOTAS Add-On Grip
https://twitter.com/TMThrustmaster/status/1136988839061446658
Everyone at the FS-Expo, was invited to try it out at the TM booth among the TPR: Thrusmaster Pendular Rudder.
https://twitter.com/TMThrustmaster/status/1137732959971270657
A great day for all flight-sim fans all over the world!
Kerbal Space Program
KSP had the "Breaking Ground" expansion released. It focuses on exploration, experimentation and robotics.
We can't wait to see what people is going to do with all these new parts, and how many poor fluffy Kerbals will suffer the consequences… for the science!
Thank you again for your support and your suggestions,
Ruben Lucendo.