Expand your cockpit
Just fixing it with two screws at the bottom of your main device, connect the usb and let's play.
Compatible with all major flight simulation titles and most cockpit setups, the b-explorer improves the control of your ship or aircraft.
Full metal body
The whole structure is made of aluminum and powder coated.
6 Axes, 4 double Toggle Switches and 8 extra Buttons
b-explorer offers 6 axis (2 potentiometers and 4 sliders), 4 toggles (3-way momentary toggle switch) and 8 buttons (one of them with a clear cover), without the need of a big cockpit.
Mounting plate compatibility
At the moment it supports following Hotas (joystick and throttle): TM Warthog, VPC WarBRD, VPC MongoosT-50, TM T16.000 FCS, Logitech X-55/X-56, Logitech X-52 Pro, CH Pro Throttle and TM T.Flight X, but I still working on it.
Review from Noobifier1337 (English)
Review from Punto de salto (Spanish)
Product review from 79vRAF's blog (English)
Review from Olivier Gaming (French)
Review from Laobi (English)
Review from Hunchy (English)
Customizable to meet your needs
Using the pivot joint you can fix your b-explorer anywhere in your simpit (simulation cockpit), table mount or your chair. It is fully compatible with the Monstertech's sim rigs, chair mounts, and table mounts.
The joint brackets ables you to arrange your flight simulation setup in a configuration only limited by your imagination.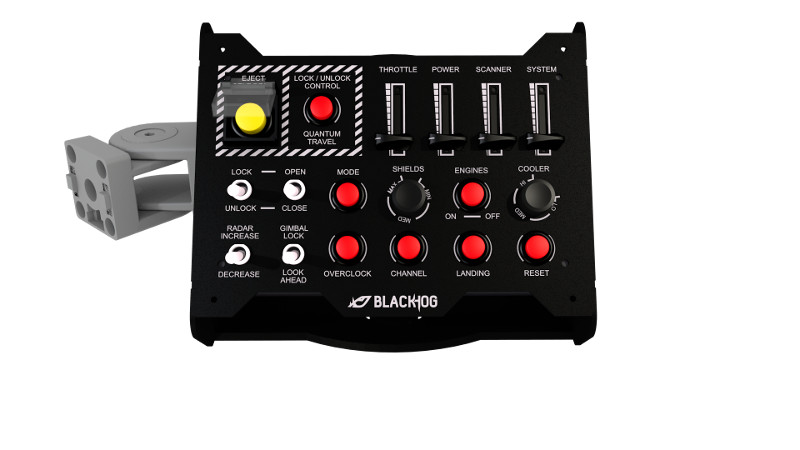 Adjustable to fit your desktop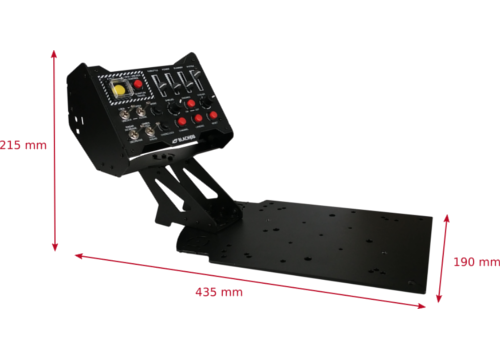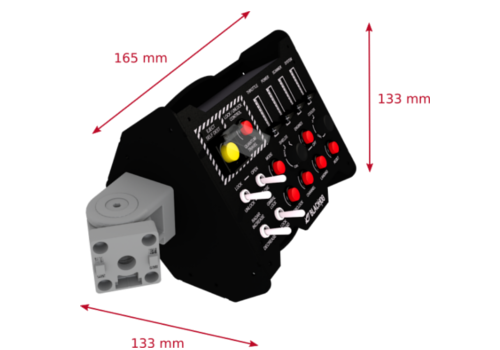 Product Includes:
BlackHog b-explorer control device
Base plate or

aluminum pivot joint

(depending on the version)
Set of sticker with multiple functions (included only on pre-orders)
Integrated smartphone holder (included only on pre-orders)
Dimensions:
Control panel: 133 x 165 x 133 mm (Length x Width x Height)
Base plate: 303 x 190 x 3 mm (Length x Width x Height)
Minimum System Requirements:
Windows®: 7, 8, 8.1, 10
Support PC and other devices which can support USB protocol onboard.
Features:
Appears as a USB HID device (joystick) to the host.
Self-Protection & Auto-Recovery 0.75A Fuse.
Compatible with all major flying games, including:
Star Citizen
Elite: Dangerous
X4: Foundations
Digital Combat Simulator: DCS World
War Thunder
IL-2 Sturmovik
Flight Simulator X
X-Plane
Arma 3
Kerbal Space Program
Testing currently more games…
Frequently asked questions (FAQ)
Are drivers required?
Drivers are not required, b-explorer is recognized as a generic gaming device.
Is it just compatible with throttles?
It is too compatible with joysticks. The design is improved to allow the free movement of the joystick.
Is it compatible with consoles?
I have not yet tested it with consoles.
Is possible to attache it on my Monstertech desk mount?
Yes, I am offering a pivot mount to fix your b-explorer wherever you want, on your Monstertech mount or your Virpil desk mount.
Is the b-explorer mappeable as a keyboard?
The b-explorer is recognized as gaming device and mapped just as any joystick or throttle.
What material is it made from?
The whole structure is made of aluminum, but the electronic's box (hidden on the inner side).