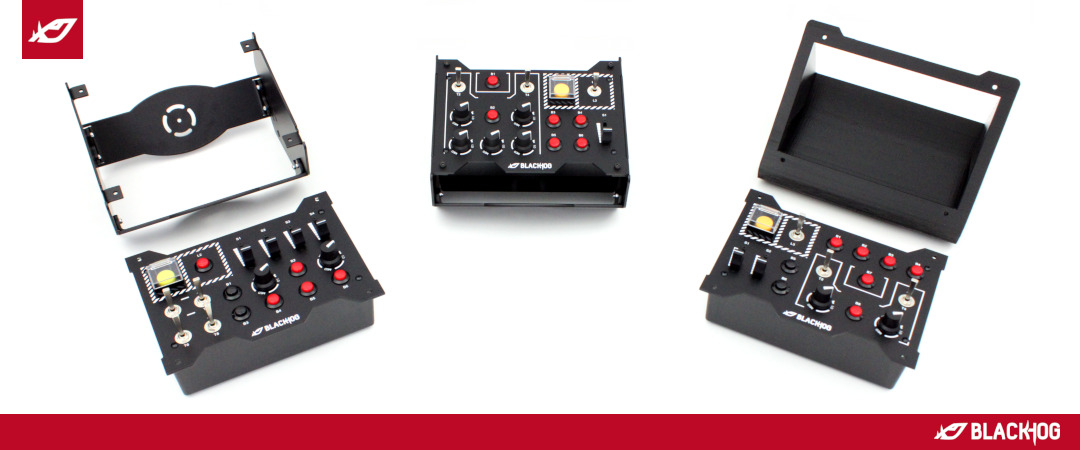 b-explorer 04: Front panel – for makers and cockpit builders
Hi guys,
We want to introduce today the b-explorer 04: Front Panel.
We have been very pleased, with the feedback received from everyone using our H.O.T.A.S. and Pivot mount solutions. But as we have learned, there are some of you that prefer to build your own custom cockpits and mounting solutions.
The first step we took in this direction, was offering what was called initially "b-explorer 03: stand-alone" which includes the button box and the aluminum frame, and is now called: "b-explorer 03: Framed".
Now we are taking an extra step: offering the button box without the frame, what we have called "b-explorer 04: Front panel".
This is intended for those makers that are printing in 3D their own desktop stand, building a cockpit, custom made simpit, or just want to integrate it in the desktop, etc.
The 4 mounting holes, one in each corner, are size M3 and will allow a simple front panel installation. We have included the Front Panel Mount cut-out with all the dimensions for reference in the store: https://www.black-hog.com/product/b-explorer-04/
As the b-explorer was designed having in mind flight sim makers and cockpit builders, for anyone already owning a b-explorer with the intention of using this solution, it will be as easy as unscrew the front panel from its frame.
The aluminum frame will also be included as an item in the shop soon, so you could always upgrade your Front Panel to the Framed version and any of our mounting solutions.
Our intention is to provide the maximum flexibility for all your needs and budgets. We have still a few more ideas in mind to expand the b-explorer options and we can't wait to announce them "soonTM".
We can't also wait to see how are you guys going to use the front panel mounting solution, make sure to share your cockpits or ideas with us!
We wish you a nice week
BlackHog Team